Mon Sept 19, 5:30-7:00 pm

Scott Starbuck

, Religious Studies, Gonzaga University & Senior Pastor, Manito Presbyterian Church, Spokane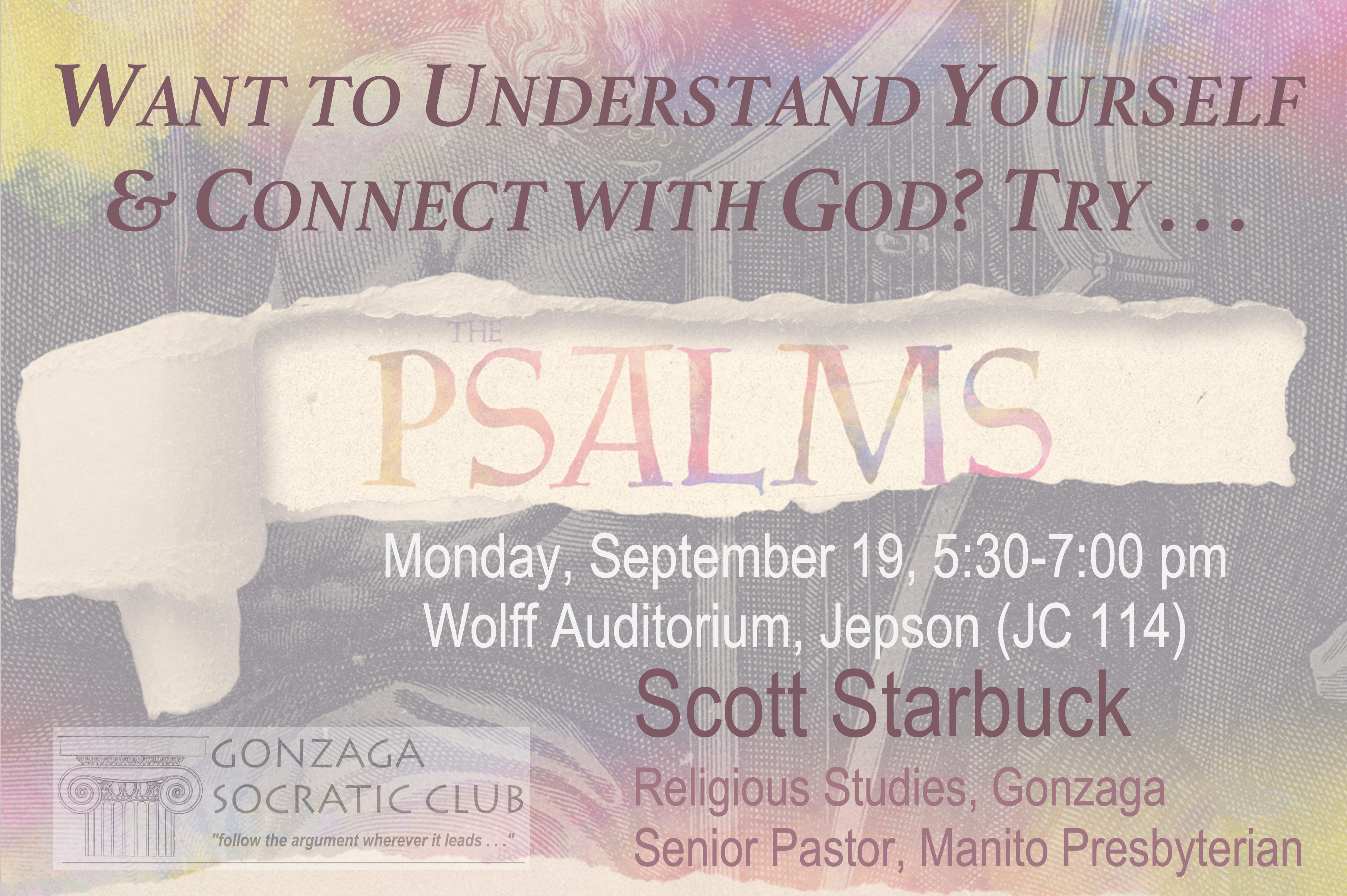 "Want to Understand Yourself and Connect with God? Try the Psalms
"


A common experience in postmodernity is disconnection from self, God, and others. This sense of alienation only increased during the pandemic and was shared alike among students, faculty, and community members. Although many may pursue modern strategies to alleviate estrangement and achieve deep connection, one should seriously consider the ancient wisdom of full-bodied engagement with the psalms where one allows the psalms to deeply engage oneself, others, and God along multiple dimensions of mind, heart, spirit, relationships, and experience. Unfortunately, few people, even the religiously trained, approach the psalms this way. In this presentation, we will not only cover the historical and theoretical contexts of full-bodied psalm engagement, but we will also approach the task practically so that attendees might begin such a practice on their own.
Scott Starbuck is an internationally recognized Hebrew Bible specialist on the Psalms and has not only published key scholarly works on the psalms but has also provided translation and commentary to musicians who have composed hymns and laments for the church. He has taught in the Religious Studies Department since 2002 and is a Presbyterian Pastor.
Mon Oct 10, 5:30-7:00 pm
Ellen Maccarone

, Acting Vice President for Mission Integration and Philosophy, Gonzaga University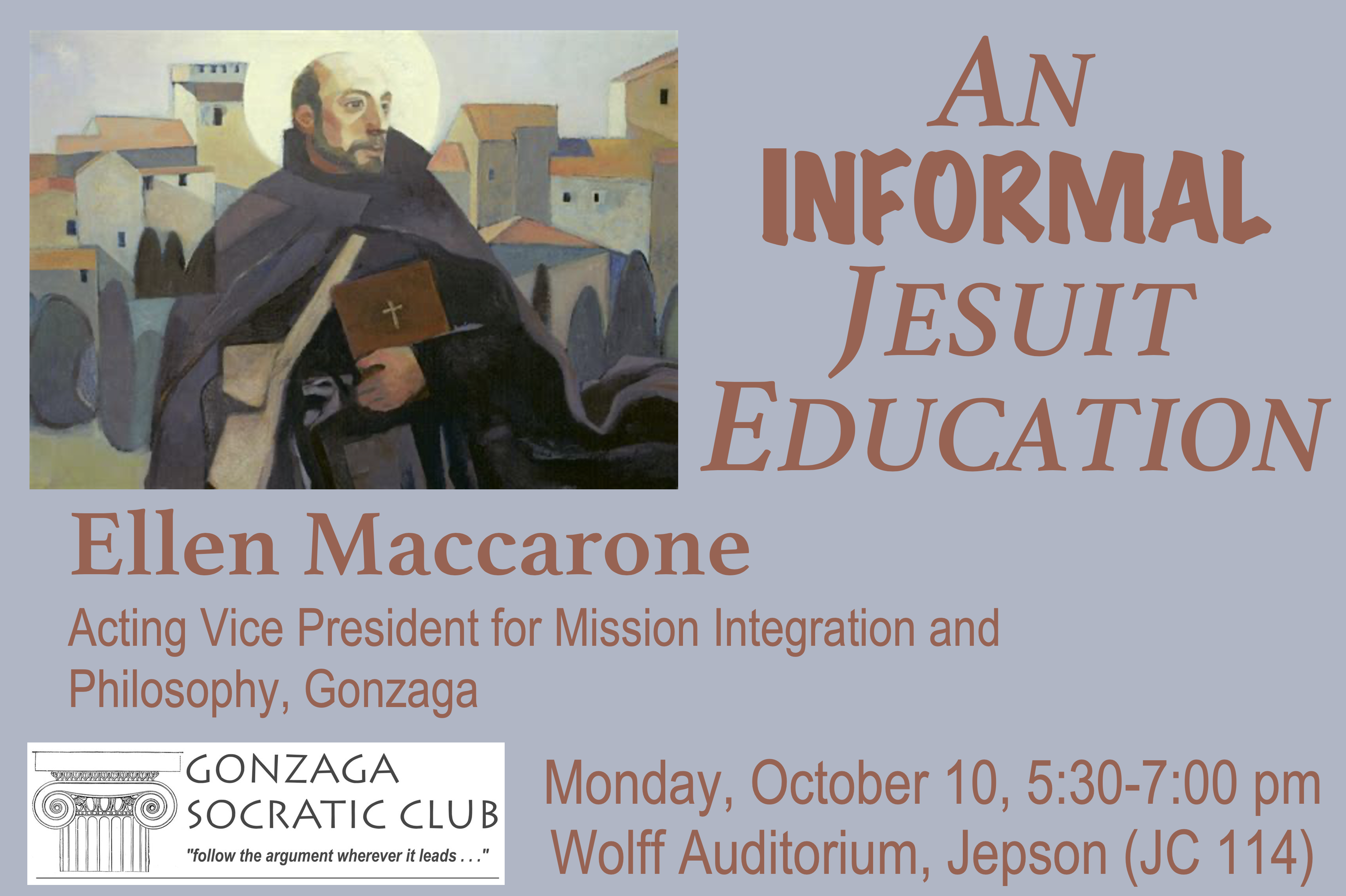 "
An Informal Jesuit Education"
Learning about Jesuit education to be the best professor and employee at Gonzaga took an interesting route for Dr. Ellen Maccarone, Acting Vice President of Mission Integration. While a practicing Catholic, she attended only secular schools. But her desire to teach in Catholic Higher Ed and landing a teaching job at Gonzaga in 2005 propelled her to learn as much as she could about Ignatian pedagogy and spirituality. So much so that the mission of Gonzaga animated her life and profession all the way to the Vice President's Office. Come learn about the many ways the mission might animate your life—intellectual, academic, spiritual, and service-oriented, in this presentation and conversation. Discussion will also include various student, faculty and staff opportunities through the Division of Mission Integration available this academic year as well as other projects of the division.
Ellen M. Maccarone, a member of Gonzaga's Philosophy Department has degrees from The University of Florida (PhD, 2004), Colorado State University (MA, 1998), and The George Washington University (BA, 1995). Maccarone's academic specialization is in ethics and applied fields in ethics such as international ethics, feminist ethics, business ethics, and social justice. Maccarone has been a frequent presenter at the Justice in Jesuit Higher Education conferences, and is a graduate of the Ignatian Colleagues Program.
Mon Nov 14
5:30-7:00 pm
Wolff Auditorium, Jepson Center (JC 114)
Joe Mudd

, Religious Studies and Director of Catholic Studies, Gonzaga University







"
The Catholic University and the Search for Authenticity: Bernard Lonergan's Ongoing Relevance to Jesuit Higher Education

"
Contemporary Catholic universities struggle to negotiate the tension between tradition and innovation as they seek to uphold the dignity of the human person, contribute to the creation of a more just and peaceful society, and mediate the Christian Gospel into history. In the contemporary period this educational mission confronts the intrusions of secularization on the one hand and fundamentalism on the other. The Canadian Jesuit philosopher and theologian Bernard Lonergan, one of the giants of twentieth century Catholic thought, provides a unique method by which to navigate the cultural challenges facing Jesuit higher education today. What can Gonzaga learn from Lonergan as we seek to live out our Catholic, Jesuit humanistic mission?


Joseph Mudd has degrees from Boston College (Ph.D.), Harvard University (M.Div.) and the University of Montana (B.A.). He teaches in the Religious Studies Department of Gonzaga University and directs the Catholic Studies program. His area of expertise is systematic theology with an emphasis in sacramental/liturgical theology. Joe is the author of Eucharist as Meaning: Critical Metaphysics and Contemporary Eucharistic Theology (Liturgical Press, 2014). Other areas of interest include the philosophy and theology of Bernard Lonergan, S.J., Thomas Aquinas, political and liberation theologies, and Christian spirituality. Joe co-directs the graduate program in Religious Studies and the Francis Youth Institute.